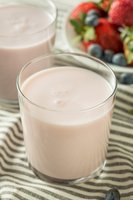 What is Kefir?
Kefir is a fermented milk beverage that is rich in probiotics, vitamins, minerals, and is nearly lactose free. It is a cousin of buttermilk and yogurt with similar consistency and taste. Kefir has been around for thousands of years originating in the Caucasus Mountains of Southern Russia. Kefir is a natural probiotic with many health benefits and healing properties. It is especially beneficial to gastrointestinal and immune systems.
Kefir, like yogurt, is made by the process of milk fermentation. This process is accomplished by inoculation of milk with the beneficial bacteria and yeast that feed on milk, break it down, and turn it into kefir. The clusters of beneficial bacteria are called kefir grains. They are the most important ingredient in our products.
Learn more
Testimonials
I think this is absolutely the easiest way to make kefir at home and is an excellent product.

W.T.
While their customer service is great, how's the product? If they had a way to add an extra star I would!

Joann Lakes
I love how well this product was engineered as I don't have to use anymore of my mediocre home tools for kefir. Thank you!

Charisse Hopkins